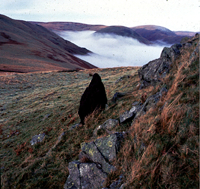 The registration number of my family's first car. They got it in the sixties. The number is forever engraved in my memory, and much to my astonishment the colour and make have already been mentioned in the small amount of writing that is on this blog to date.


I don't know the registration of my present car, which I have been driving for nine years.


I remember sitting in the back, between my brother and my sister, on the way home from aunt Nan's house. She lived in a county that used strange pink tar macadam; the border was the only thing I remember (at this moment) about the way there. A vague picture of a dam holding black water.

Driving through the forest at night we played at counting the crossed brooms propped upright at regular intervals, as the headlights picked them out. They said the brooms were for fighting fires, but from the deep, eerie darkness between the trees we knew what they really were.
The journey was Catrine to Wigtown, in Dumfries and Galloway.

These pictures are by land artist Andy Goldsworthy, who lives in Dumfriesshire, and turns the rivers and woods of my childhood into art.